What is a sellers leaseback?  A sellers leaseback is a temporary residential lease between the sellers and buyers whereby the sellers lease back the home they sold from the buyers for a short period of time.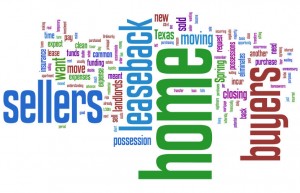 Why would a Spring Texas home seller want a sellers leaseback? – If you need the funds from the sale of your home to purchase your next home, you would want a sellers leaseback.  Ordinarily when you sell your home possession of the home transfers to the buyers upon closing and funding.
If you need the funds from the sell of your home before you can purchase your new home, you are left with no time to pack up, move, and clean the home you sold before you have to transfer possession to the new buyers.
A sellers leaseback eliminates a potential logistic nightmare and having your possessions sitting on a moving van in limbo waiting for one home to be sold and another to be purchased.
If you are moving from the home you are selling into an apartment a sellers leaseback eliminates the risk of you incurring unnecessary expenses.  You have to turn over possession of  your home upon closing and funding and in order to do so you have to move your possessions and clean the home in advance of the closing.  But what if the buyers loan falls through at the 23rd hour and they can not close on your home?  You have already moved out of your home and incurred the expense of moving.  You then have to decide if you want to incur the expense of moving again and move back into your home or incur double living expenses.  Another good reason to negotiate a sellers leaseback of your Spring Texas home.
How common are sellers leaseback? – A sellers request for a leaseback is a common occurrence and buyers are usually understanding and willing to accommodate the request.
How much should you expect to pay on a daily basis to rent your home from the buyers or new landlords? – You should expect to pay 1/30th of what it costs the buyers for homeowners insurance, real estate taxes, mortgage insurance, principal, and interest per day.  The sellers leaseback is not meant to be a money making opportunity for the buyers but it is meant to make the buyers financially whole.
As Spring Texas home sellers, just remember the buyers are doing you a favor by agreeing to become landlords because in the majority of home purchases buyers are wanting to live in the home.  They are not purchasing the home for investment purposes and do not want to be landlords.
Read also:
Image created using Wordle