As a long time resident and a Spring Texas Realtor®, I'm excited to share with you information on the place I call "home".  Whether you are a resident, visitor, or simply interested in learning more come along and Discover Spring Texas.
History of Spring, Texas
Spring, Texas is a historic community with roots dating back to the mid-1800s. Spring was named by the railroad workers that were laying tracks to the south during a harsh winter. When they reached the area it was spring time. The railroad works were so excited about winter ending they named the area "Camp Spring". Camp was later dropped from the name and became the base of operation for railroad workers.
Spring, Texas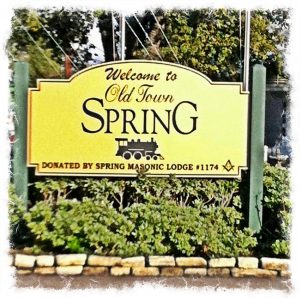 Spring is located approximately 25 minutes north of downtown Houston. Whether Houston ends Spring begins and as such could be considered a suburb of Houston Texas, the 4th largest city in the U.S. and the most ethnically diverse. Spring Texas is a U..S. Census designated place. The area that's known as Spring Texas and has a mailing address of Spring Texas is significantly larger than the U.S. Census designated place.  There is no actual city of Spring, Texas. The area is located in unincorporated Harris County and Montgomery County.
Things to Do in Spring, Texas
There's never a shortage of things to do in Spring from shopping and dining to outdoor recreation to cultural events.  Here's a few of our top picks:
Old Town Spring: Spend the afternoon browsing through the over 150 shops in a historic setting. Buy a one of a kind creation from a local artist. Take a break and sample some Texas wine. Indulge in some of the best BBQ in the state of Texas at Corkscrew BBQ. Come early as they always sell out. Step inside a speakeasy for a cocktail and to listen to live music. Take a break at a beer garden and enjoy an ice cold local brew from Excalibur Brewery. Browse the antique stores and discover a conversation starter.
Mercer Arboretum and Botanical Gardens: This 250 acre public park is open daily and has free admission. There's botanical gardens, an arboretum, nature trails, playground, picnic tables, and a gift shop. The gardens include an Azalea trail, a Bald Cypress Pond, a Bamboo Garden, an Endangered Species Garden, a Hickory Bog, Perennial Gardens, and a Tropical Garden. There's also something blooming at the Mercer Botanical Gardens.
Spring Creek Greenway: This 12-foot wide paved hike and bike trail system connects six Harris County parks. The public green space stretches 19 miles from start to finish and is the longest connected urban forest in the nation. The Spring Creek Greenway continues expanding and hopefully one day will extend 40 miles from Hwy 59 to Hwy 249.
Indoor Rock Climbing: Tackle your fear of heights at InSPIRE ROCK. The 18,000 sqft gym is separated into six areas with structure as high as 43 feet tall.
TGR Exotics Wildlife Park: See, touch and learn about more than 100 animals representing over 25 species.
Geronimo Adventure Park: Expand your horizons and try something new at this aerial park with axe throwing, rock climbing, obstacle course, and three ziplines.
Fine Arts: The Pearl Fincher Museum of Fine Arts is the largest fine arts museum outside of the Houston museum district. The free museum is open to the public year round showcasing art exhibits from around the world.
Schools in Spring Texas 
Spring has private and charter schools as well as the highly-rated and fast growing public school districts of Spring ISD, Klein ISD, and Conroe ISD. There are several colleges and universities including Lone Star College and the University of Houston within a 30 minute drive of Spring.
Spring Texas Neighborhoods
Spring Texas has a variety of neighborhoods from small, close knit neighborhoods to master planned communities with resort style amenities to gated communities to established, wooded neighborhoods. Spring has a diverse selection of housing options from townhomes to condos to single family homes that have a variety of architectural styles including modern, craftsman, tudor, traditional, and mediterranean. Learn more about Spring Texas neighborhoods
Spring Texas real estate taxes
Texas is one of eight states that has no state income tax. Since there's no state income tax, Spring Texas's real estate tax rate is higher than other cities. It's through real estate taxes that schools, roads, infrastructure, and social services are funded.  Learn more about the three components of the Spring Texas real estate tax rate
Moving to Spring, Texas
Thinking about moving to Spring Texas? Wondering what's it like to live here? Here's 10 things you must know before moving to Spring, Texas
Ready to learn the favorites of a long time local Spring Texas resident? Check out our Best of Spring Texas relocation guide for the best food, parks, and attractions.
Spring Texas is a great place to live for those who are wanting a lower cost of living, who enjoy a milder climate and the outdoors, who are wanting quality public school education, ethnic diversity, access to top medical hospitals, access to the amenities of larger community and larger city like the Woodlands and Houston, and a short drive to a major airport.
Click on the icons for information on the points of interest in Spring Texas and surrounding areas of Northwest Houston.
View Discover Spring Texas points of interest in a larger map