The further into the year we get the better the Spring Texas real estate market gets.  The year over year percentage decreases continue to decline as we continue our climb to the return of a normal market.  
Our real estate market still has a way to go but the chart shows you the dramatic improvements it has made since the first of the year.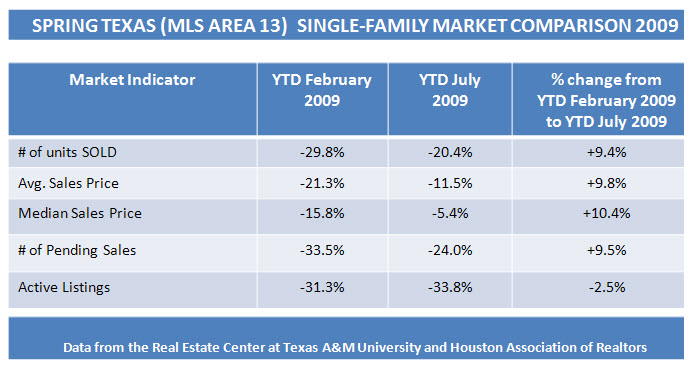 Houses in the under $200,000 price range continue to be where the most buyer activity is occurring.  This comes as no surprise since the under $200,000 price range is being fueled by the first time homebuyers tax credit. 
If your house falls in the lower price range and you are thinking about selling it, now is the time.  There are still first time homebuyers in the real estate market wanting to take advantage of the tax credit but waiting on the right home.  You need to hurry though because the first time homebuyers tax credit credit expires on December 1st, 2009 and this price range is bound to take a breather.
Spring Texas houses in the $400,000+ price range continue to sit and sit as the buyers are missing in action.  Prices are still stable at the upper price ranges as sellers seem to be content with waiting until the buyers return.
If you love numbers like I do, check out the Real Estate Market Reports category to get your fill.
The data represented is from the Houston Association of Realtors MLS for single family existing homes in Area 13. Area 13 covers the geographic boundaries of East – I45 to West – Hwy 249 to South – Beltway 8 to North – Spring Cypress.  A good portion of the houses in MLS area 13 have a Spring TX mailing address.