Its numbers time again as the latest stats for the Spring Texas real estate market have been released.  For those of you who don't like numbers and think they are boring, you have my permission to be excused from reading this post and to go off and search homes for sale instead.
For everyone else, let's get back to the numbers and find out how the Spring Texas real estate market is doing.  In comparison to February 2009, the real estate market is doing better and continues to improve as the year progresses. But the real estate market is still down from last year with 20% less units sold than in 2008.
Homes in the  uppper price ranges (over $400,000) continue to struggle as the buyers are just not out there and inventory remains high at 8+ months. The move up buyers continue to sit on the sidelines and are waiting to feel better about the economy and the unemployment rate.
Currently its the first time homebuyers and relocation buyers that are the drivers of the Spring Texas real estate market.  With the fast approaching expiration date of the tax credit on November 30th, the first time homebuyers have a sense of urgency to make a decision and seem willing to make concessions in their criteria in order to meet the deadline. 
Recently I have been bombarded by emails from the National Association of Realtors, Texas Association of Realtors, and Houston Association of Realtors all asking me to contact my Congressmen and urge them to expand and extend the first time homebuyers tax credit before the November 30th expiration date.  As a Realtor who relies on buyers and sellers to make a living supporting an extension of the tax credit seems like a "no brainer".  But as a taxpayer and a U.S. citizen I have to ask when does a good thing become too much of a good thing?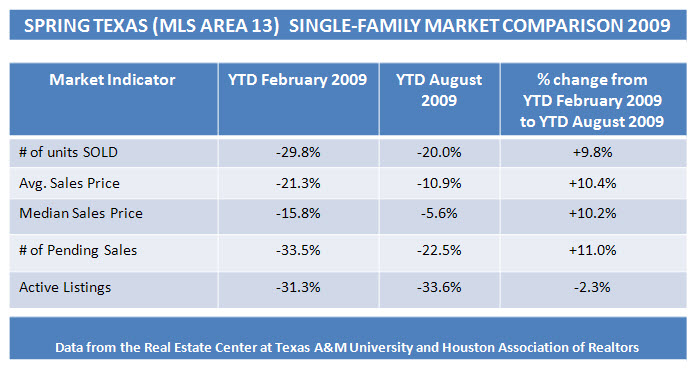 For more numbers, check out the Real Estate Market Reports category.
The data represented is from the Houston Association of Realtors MLS for single family existing homes in Area 13. Area 13 covers the geographic boundaries of East – I45 to West – Hwy 249 to South – Beltway 8 to North – Spring Cypress. A good portion of the houses in MLS area 13 have a Spring TX mailing address.