What's going on with the,  Spring Texas Real Estate Market?  The expiration of the federal home buyers tax credits generated a 27% increase in May's sales versus the prior year.  The expiration of the tax credits also impacted the pending sales but in the opposite direction with a 11% decrease.  Active Listings are up 15% over the prior year. 
Although the federal tax credits have expired, their impact will continue to be felt on the Spring Texas real estate market through out the summer. With buyers having pushed up their home purchases to cash in on the tax credits, there will be more real estate agents at the pool than showing homes this summer.
With less buyers and more sellers, active listings have increased along with months of inventory.  Recent announcements of job lay-offs at HP, Continental's headquarters moving to Chicago, high unemployment rates, dismal stock market performance, and the diaster in the gulf are all factors / events that have caused consumer confidence to dwindle.  Low consumer confidence will continue to negatively impact the Spring Texas real estate market especially homes for sale at $500,000+ where months of inventory remain at 12+ months.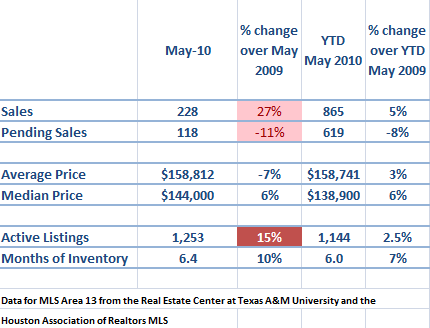 With the interest rate for 30-year home loans right under 5%, the Spring Texas real estate market still has low interest rates in its favor.  But low home mortgage interest rates can not support the real estate market by itself.  We need some good news like  "Job Creation" to increase home sales.  
If you would like to find out what Mark Woodroof, one of the owners of Prudential Gary Greene Realtors, has to say about the Houston real estate market, then watch this short YouTube video.
Want more numbers? Check out past Spring Texas real estate market reports.
The data represented is from the Real Estate Center at Texas A&M University and the Houston Association of Realtors MLS for single family existing homes in Area 13. Area 13 covers the geographic boundaries of East – I45 to West – Hwy 249 to South – Beltway 8 to North – Spring Cypress. A good portion of the houses in MLS area 13 have a Spring Texas mailing address