What's going on with the Spring Texas Real Estate Market?  It can be summed up with one word "SLOW".  The usually busy summer selling season is anything but that with year over year pending sales being down 30%.  Sales for the month were down a much smaller percentage than pending sales due to the lingering effect of the federal home buyer tax credits.  Buyers had to be in contract by April 30th to meet the tax credit deadline but they had until June 30th to close on the home.  Thus tax credit sales that were pended in April are showing up in June sales figures.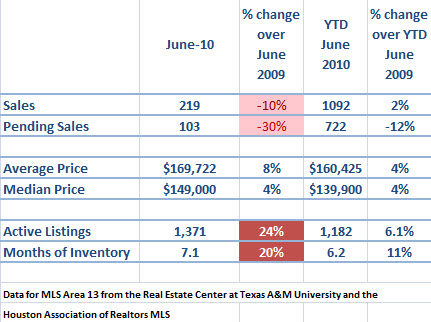 The Spring Texas real estate market has changed from last year's balanced market which is considered to be 6 months of inventory to a buyers market.  Buyers have plenty of homes to choose from with 24% more active listings this year than last. 
Sellers are feeling the increase in competition. And the Spring Texas home sellers that need to sell their homes this summer are responding with price decreases. Begrudingly some sellers have decided to play the follow the leader pricing game.  Other sellers are reevaluating their plans and are considering pulling their house off the real estate market until it improves.
If you are a buyer, the time to strike is now.  You have plenty of Spring Texas homes to choose from, interest rates are ridiculously low in the mid to upper 4% for 30-year home loans, and home sellers are competing for your business.  By late fall, I predict we will see the return of a balanced market. But until then buyers its your turn to call the shots.
Want more numbers? Check out past Spring Texas real estate market reports.
The data represented is from the Real Estate Center at Texas A&M University and the Houston Association of Realtors MLS for single family existing homes in Area 13. Area 13 covers the geographic boundaries of East – I45 to West – Hwy 249 to South – Beltway 8 to North – Spring Cypress. A good portion of the houses in MLS area 13 have a Spring Texas mailing address