Spring Texas Real Estate: Market Report October 2010
What's going on with the Spring Texas Real Estate Market?  With the elimination of the artificial stimulus caused by the home buyer tax credits, the Spring Texas real estate market continues its downward trend.  August YTD home sales were down 5%. September's YTD home sales were down 6% and now October's YTD homes sales are down 7% over 2009.   
We will continue to see the downward trend to increase at least through November.  As it was in November 2009 that the first home buyer tax credit was scheduled to expire which caused buyer demand to be accelerated.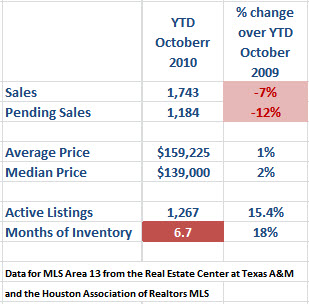 The inventory of available Spring Texas homes for sale remains high at 6.7 months which is 18% higher than last year.  Six months of inventory is considered a balanced market.  At the current level of months of inventory, the Spring Texas real estate market is considered to be a buyers market.
The increased competition is forcing the sellers who have a need and not a want to sell to get aggressive on their pricing.  30-year mortgage interest rates are still in the mid 4 percent range but we are beginning to see some upward pressure on the interest rates.  
If you are thinking about buying a home now is the time to strike. As both the Mortgage Bankers Association and the National Association of Realtors are projecting interest rates to increase over the next six quarters.  Just how much will the increase be?  Mortgage interest rates are predicted to be between 5.4 – 5.8% by the 2nd quarter of 2012. A full percentage point higher than the current interest rates. 
Want more numbers? Check out past Spring Texas real estate market reports.
The data represented is from the Real Estate Center at Texas A&M University and the Houston Association of Realtors MLS for single family existing homes in Area 13. Area 13 covers the geographic boundaries of East – I45 to West – Hwy 249 to South – Beltway 8 to North – Spring Cypress. A good portion of the houses in MLS area 13 have a Spring Texas mailing address.