What's going on with the Spring Texas Real Estate Market?  Surprisingly, Sales are up 14% over last March and Sales YTD are up 2%. Due to the flurry of activity created by last year's home buyer tax credits, a decrease in home sales is what was expected which is why an increase is so surprising.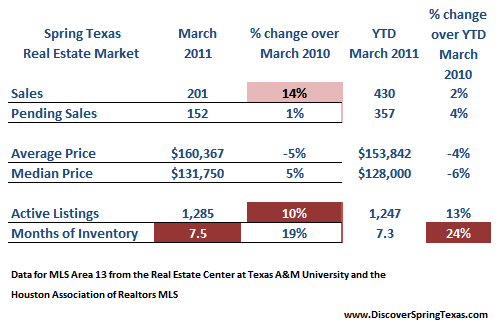 A 10% increase in the number of homes on the Spring Texas real estate market is putting pressure on home prices.  As both the average sales price and the median sales price are in negative territory for the year. The good news is the decreases are not significant as they are less than 10%.  Heading into the Spring selling season the months of inventory remain high at 7.5 months.  putting the negotiating power firmly in the hands of home buyers. 
Interest rates for 30-year home loans are still bouncing around increasing the need for buyers to lock their interest rates as soon as possible.  Also impacting home loans is the increase by the FHA of the monthly mortgage insurance premium which took effect on April 18th.  On a $150,000 home loan, the cost of an FHA loan increased by 28%.
I anticipate an increase in Spring Texas homes for sale next month as sellers have begun to come out in droves in anticipation of what hopes to be a busy summer selling season.  If you are wanting to buy a home but not finding what you want, don't despair because more inventory is on its way.  
Want more numbers? Check out past Spring Texas real estate market reports.
The data represented is from the Real Estate Center at Texas A&M University and the Houston Association of Realtors MLS for single family existing homes in Area 13. Area 13 covers the geographic boundaries of East – I45 to West – Hwy 249 to South – Beltway 8 to North – Spring Cypress. A good portion of the houses in MLS area 13 have a Spring Texas mailing address.