What's going on with the Spring Texas Real Estate Market?  As anticipated last year's home buyers tax credits continue to skew the year over year and the YTD comparisons.  In order to qualify for the home buyers tax credits, buyers had to be in contract by April 30th, 2010 and close by June 30, 2010.  After the home buyers tax credits expired on April 30th, 2010, Spring Texas home sales fell like a rock because demand had been pushed forward. Pending Sales for June 2011 are up 30% over last year.  The increase in pending home sales is misleading since it's being compared to a month when sales were pushed forward.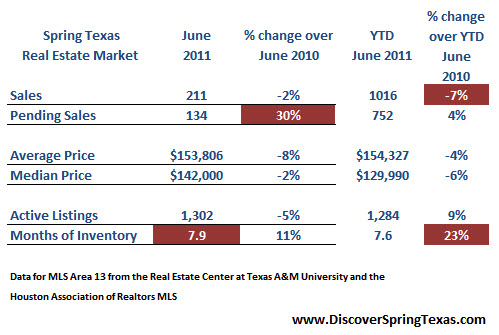 With the comparisons out of whack due to last year's artificial stimulation, the metrics we need to evaluate to determine what's going on with the Spring Texas real estate market are:
Months of Inventory – Based on prior home sales activity and current active listings, the months of inventory is 7.9 months.  More than six months of inventory is considered a buyers market.
Sale Prices – Year over year and YTD Sales prices for Spring Texas homes are down. Prices are not significantly down but they are still down.
The increase in the months of inventory and the decrease in homes sale prices have been directly impacted by the stringent lending requirements and the high unemployment rates. Both decrease the quantity of qualified buyers and exert downward pressure on prices.
Bottom line for Sellers: If your reason for selling your Spring Texas home is because you want to trade up to a larger home, then stay the course. Yes, you will not make as much money on the sell of your home as you would like but you won't be paying as much for the home you are wanting to buy either.  If your reason for selling is because you want to downsize, then take your house off the market and wait until the real estate market improves.
Bottom line for Buyers: If you are feeling confident about your future job employment, then now is a great time to buy a home. The lackluster growth in the economy and high unemployment rates is keeping interest rates at historical lows of 4.5% to 4.75% so you can afford more house. Plus with Spring Texas home prices you are getting a better deal than you would have a couple of years ago. Just don't expect interest rates and home prices to continue to stay low.  The economy will improve and interest rates will go back up. Exxon Mobil's campus will increase housing demand and increase prices of Spring Texas homes.
Want more numbers? Check out past Spring Texas real estate market reports.
The data represented is from the Real Estate Center at Texas A&M  University and the Houston Association of Realtors MLS for single family  existing homes in Area 13. Area 13 covers  a large geographic area stretching from I45 to Hwy 249 to Beltway 8 to Spring Cypress. Not all subdivisions are faring the same.  If you are interested in selling your Spring Texas home, give me a call at 281.804.8626 to schedule an appointment.