In October, the Spring Texas real estate market experienced yet another month in which home sales were greater than the prior year. YTD home sales also remain strong with an increase of 17%.  Days on Market is down 17%. Listing inventory is down 25%. Months of Inventory is down 35%. Average and median home prices are up 6%.  If you are thinking about selling your Spring Texas home, now is a good time to do it with home prices up and inventory down.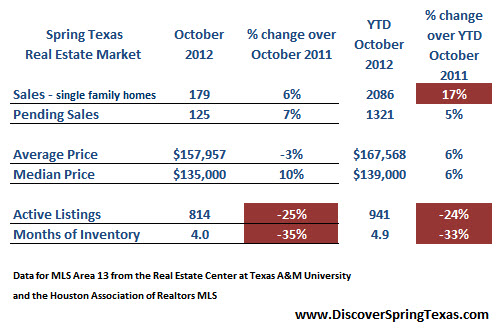 Listing inventory – With active listings being down 25%, now is the time to list your house.  Don't wait until the spring when there is more competition. We are working with both first time home buyers and relocation buyers who are ready to buy within the next 30 to 60 days. The only thing our buyers are waiting on is the right house to come on the market.
Months of Inventory – With 24% fewer homes for sale and a 17% increase in home sales, the months of inventory has decreased by 33%.  The market is favoring sellers and buyers are having to say "please" and "thank you" instead of being able to squeeze the sellers for their very last dime.
Home prices – Average and median YTD prices are recording single digit gains but the gains are misleading. Buyers are taking advantage of the additional purchasing power of lower interest rates and purchasing higher priced homes which is raising the median home price.
With interest rates being over a 1/2 percent lower this year over last year, buyers are experiencing an increase in their purchasing power.  Based on the median sales price of $155,000 and a 3.5% interest rate, the monthly principal and interest is $696.  An interest rate of 4.0% increases the monthly principal and interest by $44.
Days on Market (DOM) – Measured from the date a house is put on the market until the date it goes under contract. DOM on market for the month was 72.  Spring Texas homes are sitting on the market for less time than they did a year ago.
Mortgage Interest Rates – Interest rates are still super low with 30-year fixed rates hovering around 3.5% without an origination point. Rates on VA loans and FHA loans are even lower at 3.25%. Interest rates on 15 year loans are below 3%.
The data represented is from the Real Estate Center at Texas A&M University and the Houston Association of Realtors MLS for single family existing homes in Area 13. Area 13 covers a large geographic area stretching from I45 to Hwy 249 to Beltway 8 to Spring Cypress.