How's the Spring Texas real estate market?  HOT, HOT, HOT.  Fueled by first time home buyers and relocating buyers, the Spring Texas real estate market experienced another great month.  Home sales were up 27% over the same month prior year and YTD sales are up 18%. Listing inventory is down 32%. Months of inventory dropped down to 3.6 months placing us firmly in a sellers market. Interest rates remain ultra low at 3.5% for a 30 year fixed rate conventional loan.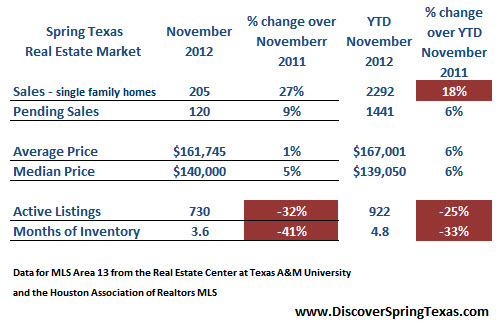 Listing inventory – The 2012 Spring Texas real estate market will be remembered as the year of few "For Sale" signs. November's active listings were down 32% compared to the previous year.  The lack of active listings has kept some buyers on the side lines and has caused other buyers to build. Additional selection is on its way as builders have numerous inventory homes under construction. If you were thinking about listing your Spring Texas home for sale next summer, list it in January or February instead to take advantage of the low inventory level.
In anticipation of the EXXON MOBIL campus opening in 2014, numerous new communities are in development in the Spring Texas area.  Time will tell if there will be sufficient housing available at the time EXXON MOBIL employees will be moving into our area.
Months of Inventory – Sitting at 3.6 months, the months of inventory is extremely low and firmly puts us in a sellers market. Buyers are having to deal with fewer home choices while sellers are enjoying less competition.  Six months of inventory is considered a balanced market. Less than 6 months of inventory have the sellers in control. More than 6 months of inventory have the buyers driving the negotiations.
Home prices – Average and median YTD prices are remaining steady partially being held down by appraisers. Appraisers are reluctant to recognize the increase in demand and are conservative in their appraisals.
Days on Market (DOM) – Measured from the date a house is put on the market until the date it goes under contract. DOM on market for the month was 73.  Spring Texas homes are going under contract 2 weeks sooner than they did last year.
Mortgage Interest Rates – Interest rates continue to remain super low at 3.5% for 30 year fixed rate conventional loans.  Mortgage interest rates are predicted to remain low in 2013 which is good news for those buyers who have been unable to find the right house to call "home".
The data represented is from the Real Estate Center at Texas A&M University and the Houston Association of Realtors MLS for single family existing homes in Area 13. Area 13 covers a large geographic area stretching from I45 to Hwy 249 to Beltway 8 to Spring Cypress.