Low listing inventory keeps the Spring Texas real estate market firmly in a sellers market with only 1.6 months of inventory as listing inventory constricts further with a 1.8% decrease. Price decreases continue as sellers are still grappling with the normalization of the Spring housing market. The jump in mortgage interest rates to the high 6 – low 7 percent range has moved buyers to the sidelines. Less competition has pushed some buyers off the sidelines and back into the market. Some buyers are reevaluating their financing and putting more money down to offset the impact of higher interest rates on their monthly mortgage payments.  Institutional investors are still purchasing homes and are still paying list price.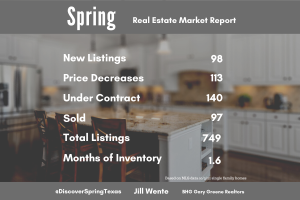 Buyers are nervous about the stability of Spring Texas house prices and are concerned about purchasing at the top of the market. With low listing inventory, significant decreases in home prices are not in the near future for Spring Texas. We are experiencing fewer multiple offers. Contract terms that just six months ago buyers have to give to the sellers are being shifted back to the buyers.
Market stats are from the Houston Association of Realtors for the week of September 27 – October 3rd , 2022 for single family homes in Spring Texas.