Months of inventory for the Spring Texas real estate market jumps 6%. It's the first increase in months of inventory in over a month. Months of inventory came in at 1.7 months. Yes, it was an increase but don't lose sight of the fact that we are still firmly in a sellers market in Spring Texas. A balanced real estate market is 6 months of inventory. Less than 6 months of inventory is a sellers market.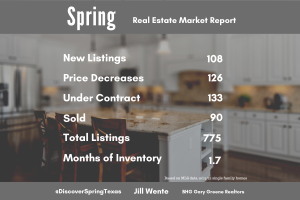 Yes, buyers do have more negotiating power than they did 6 months ago but it's definitely not a buyers market. Buyers are now able to negotiate the existence of an option period, the payment of the owners title policy by the sellers, acceptance of home selling contingencies, and reasonable repair requests. In order to compete in this new normalized real estate market, sellers can no longer be the bullies on the playground. They can no longer have a take it or leave it attitude.
As a seller accurate pricing is crucial in this new market in order to maximize your return. Some sellers are still struggling with pricing their homes correctly for the normalization of the market. This last week saw the highest quantity of price decreases in a month.
The number of homes on the Spring Texas real estate market is at its highest level in a month. This is good news if you have been thinking about buying. You have more options to choose from.
Market stats are from the Houston Association of Realtors for the week of October 11 – October 17, 2022 for single family homes in Spring Texas.