Higher monthly mortgage payments cools the Spring Texas real estate market. Pending home sales dropped 13% and home sales dropped 17% week over week. Home sales units is decreasing. Some buyers are taking a wait and see approach to the real estate market causing homes to stay on the market longer.
Listing inventory showed no significant week over week change. Months of inventory grew by 6% to 1.8 months. Six months is considered a balance market. Less than six months is a sellers market. Although we are in a sellers market, buyers have more negotiating power than they did six months ago because demand has decreased.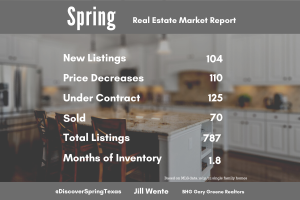 Wondering if now is the right time to buy? Watch this video for Dave Ramsey's take on the real estate market
Right now is the best time to buy a house in the next five years. Home prices are not going down. They are not going to get cheaper because we have a housing shortage. A Freddie Mac report said there's an estimated shortage of 3.8 million housing units nationwide.
The rate of home price appreciation is throttling down. Due to higher home prices and higher mortgage interest rates, home price appreciation has decreased. Home price appreciation for 2023 is projected to be flat.
Questions about the Spring Texas real estate market?  Reach out to Jill Wente, Spring Texas Realtor®
Market stats are from the Houston Association of Realtors for the week of October 25 – October 31, 2022 for single family homes in Spring Texas.