The number of Spring Texas homes receiving a price decrease exploded to 32%. Seasonality coupled with sellers impatience caused the explosion in price decreases. Sellers with an end of year time frame felt the clock ticking and decreased their listing price. New listings hitting the Spring Texas real estate market jumped 13%. Sellers needs to move during the winter school break is reason behind the increase in listings.
Homes under contract are relatively unchanged. Sold homes was uncharacteristically cut in half. The increase in new listings marginally impacted by 2% total listings. Months of inventory continues to remain low at 1.8 months. The Spring Texas housing market is still a sellers market. The buyers have more negotiating power than they did 8 months ago but it's not a buyer market.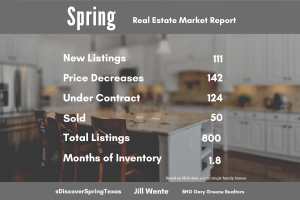 Mortgage rates experienced a .5% drop last week after a better than anticipated inflation rate. If you have been on the sidelines, now is a good time to get back in the market and purchase that Spring Texas home you've been wanting. Inventory is up over last year offering you more selection. Demand is lower decreasing the insane amount of competition. Homes that are on the real estate market in November and December are with sellers who have a genuine need to sell today. Not next month or next year.  You are at your strongest negotiation position when you are buying a house in the holiday months.
Questions about the Spring Texas real estate market?  Reach out to Jill Wente, Top Rated Spring Texas Real Estate Agent
Market stats are from the Houston Association of Realtors for the week of November 8 – November 14, 2022 for single family homes in Spring Texas.