Market seasonality as returned. The Spring Texas real estate market registered declines in new listings, price decreases, homes under contract, and homes sold over the last week. No surprise in the declines as the real estate market for the last two years was an anomaly. Every month was fast and furious.  We are officially in the holiday season which brings with it fewer buyers and fewer sellers. Although smaller in number, the buyers and sellers at this time of year are committed to their task.
Total available homes for sale showed little change week over week. The months of inventory remains at 1.7 months which is firmly in sellers market territory.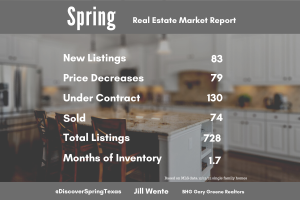 Added benefit of buying or selling during the holiday season is people are in good moods. Yes, they may be stressed by all the holiday activities but I have found that repair negotiations go smoother during the holiday season.
The week before Christmas is typically the quietest week of the year. Buyers have officially focused their efforts on enjoying the holidays with family and friends. The real estate market will go into a one week hibernation.  The week after Christmas the buyers will awaken and be back out looking at homes. Does all real estate market activity stop. No, I have negotiated offers on Spring Texas homes on Christmas Eve. Spring Texas could be considered a suburb of Houston, the most ethnic diverse city in the U.S. Not all ethnicities celebrate the same holidays so our real estate market never completely sleeps.
Questions about the Spring Texas real estate market?  Or are you just wondering what's happening in your neighborhood?  Reach out to Jill Wente, Top rated Spring Texas Realtor
Market stats are from the Houston Association of Realtors for Spring Texas for properties classified as single family homes for the week of December 6 – December 12, 2022.