The Spring Texas Real Estate market closes out the year with a drop in months of inventory to 1.5 months. If it feels like there are fewer homes on the market, you are right. Total available homes for sale are at 625. The number of homes receiving price decreases last week cratered to 18.  Sellers are starting to finally figure out where pricing needs to be and they are beginning to understand it's going to take longer for their house to sell.
New listings decreased by 24% over the last week and by 49% over the first of December. We will increase an increase in total listings will increase in January as many homeowners wait until after the holidays to list their homes. With interest rates and the dreaded recession word on people's minds, it's unclear as to how the real estate market will perform in 2023.  With a paltry amount of homes available for sale, home prices should remain firm. Analysts are projecting home price appreciation for 2023 to be 0 – 3%. Real estate has historically and will continue to be a good long term investment.
If you are thinking about selling your Spring Texas house in 2023, proper pricing, staging, marketing, and patience will result in the highest return on investment. Gone are the days of throwing your house on the market and the buyers will fight over it.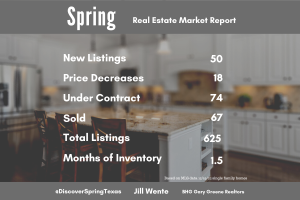 Questions about the Spring Texas real estate market?  Or are you just wondering how the real estate market is faring in your neighborhood?  Reach out to Jill Wente, Top rated Spring Texas Real Estate Agent
Market stats are from the Houston Association of Realtors for Spring Texas for properties classified as single family homes for the week of December 13 – December 19, 2022.