The dip in 30 year mortgage interest rates into the low 6s brought buyers out in droves last week. Spring Texas homes under contract jumped 23% due to increased buyer demand. Numerous Spring Texas Realtors reported an increase in Open House attendance. Is the summer selling season starting early?
New listings dropped 28% week over week putting further strain on the number of available homes for sale. With months of inventory sitting at 1.5 months the Spring Texas real estate market is still a sellers market. Buyers do have more negotiating power than they did a year ago but multiple offers are still being received.
The most interesting stat on the Spring Texas housing market is the 669% increase in price decreases. Price decreases tapered off over the last three weeks and hovered in the low double digits. They are now back in the triple digits which we haven't seen since the end of November. Further insight into the price decreases reveals they were driven by two builders and an ibuyer.  Long Lake and Centex adjusted their pricing by $2,000 to $40,000 on their inventory homes and OpenDoor reduced some of their listings by $3,000 to $15,000. Builders frequently adjust their prices. Over the last couple of years, the price adjustments have been upwards. Housing affordability is being pushed to its limit and builders are finally starting to realize the ceiling can only be raised so high.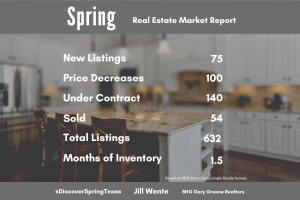 Questions about what's going on in the local Spring Texas real estate market, reach out to me.  Jill Wente, Spring Texas Real Estate Agent  I'm happy to answer your questions.
Market stats are from the Houston Association of Realtors for Spring Texas for properties classified as single family homes for the week of January 17 – January 23, 2023.