Spring Texas Real Estate Market experiences 35% drop in price decreases. Accounting for 12% of the price decreases was new construction builder, Legend Homes who made modest price adjustments to his inventory homes.
Number of new listings hitting the real estate market show little change. With the number of new listings staying consistent and buyer sentiment remaining strong months of inventory remains low. With only 1.5 months of inventory, he Spring Texas real estate market is a sellers market. Six months of inventory is considered a balanced market. Buyers are being able to negotiate now. Just last week, I successfully negotiated over $1,600 in repairs for a first time homebuyer. Something I wasn't able to do 12 months ago when the 30 year mortgage interest rate was below 4% and buyers were coming out of the woodwork like cockroaches.
Higher interest rates and lower demand have increased days on market When you are listing your Spring Texas home for sale, you are going to need to be more patient as average days on market is 65 days.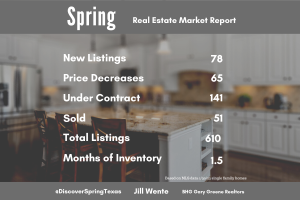 The days of the majority of houses receiving multiple offers and sale prices averaging 103% of list price are gone. The average sales price to list price is 96%. But the average doesn't tell the whole story. 28% of Spring Texas homes sold last week were at or above list price. The average sales price of a Spring Texas home is $371,970.
National real estate market numbers and averages provide a broad brush stroke of the real estate market. When you really want to know what's going on with the Spring Texas real estate market, reach out to a local expert. I've been a Spring Texas Realtor for 20 years and I'm dialing into the market. If you have questions, reach out to me, Jill Wente, I'm happy to answer your questions.
Market stats are from the Houston Association of Realtors for Spring Texas for properties classified as single family homes for the week of January 24 – January 30, 2023.