New listings jumped 13% week over week. Buyers snatched up the new listings keeping months of inventory at 1.6. Six months is considered a balanced market. With less than six months of inventory, the Spring Texas real estate market is a sellers market. Although the local real estate market is a sellers market, the decrease in demand has it feeling more like a buyers market. Buyers have become pickier since their housing dollar doesn't go as far. Sellers are having to be more reasonable in their negotiations.
If you are thinking about selling your Spring Texas home in 2023, list your home in Q1 or Q2 for the highest price. If the Fed can't get inflation back down to the 2% range, they will continue to increase the overnight borrowing rate. An increase in the overnight borrowing rate will push Mortgage interest rates higher in Q3 and Q4. Each tick upwards of the mortgage interest rates push more buyers out of the market decreasing demand. Less demand puts downward pressure on home prices.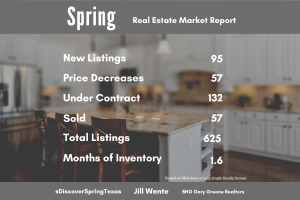 Be prepared for your home to sit on the market longer. Median days on market sits at 51 with the average days on market sitting a little higher at 71. Price, condition, and marketing do and always will reduce your days on market. The average sold price is $333,797.
National real estate market numbers provide a high level overview of the real estate market. When you want to know what's really going on with the Spring Texas real estate market, reach out to a local expert. I've been a Spring Texas Realtor for 20 years and I'm dialed into the market. If you have questions, reach out to me, Jill Wente, I'm happy to answer your questions.
Market stats are from the Houston Association of Realtors for Spring Texas properties classified as single family homes for the week of February 7 – February 13, 2023