New listings dropped 13% and homes under contract jumped 22% reducing the months of inventory to 1.5 months. A high inflation data report and the potential for future increases in mortgage interest rates pushed buyers into action. Six months is considered a balanced market. Sitting at 1.5 months of inventory, the Spring Texas real estate market is still a sellers market. Due to less demand, buyers are able to negotiate more than they were 12 months ago. Multiple offers are not a thing of the past. They still exist and will always exist when a property is priced correctly, staged, and strategically marketed.
Price decrease skyrocketed 37% week over week. Further analysis shows the actual price decreases were minimal and only represented a 1  – 2% price reduction. A small price adjustment is sellers trying to hit a new pool of buyers.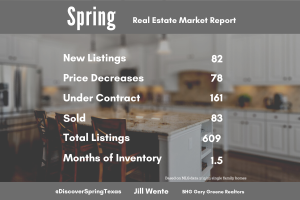 Spring Texas homes are taking longer to sell.  The average days on market is 48.  Days on market is calculated from the day the home is listed until the day the home is in contract. The average sales price to list price is 98%. Some sellers but not all sellers are willing to do some negotiations on price. 19% of the homes sold had a sales price at or above the list price. The average sold price is $371,666.
National real estate market numbers provide a high level overview of the real estate market. When you want to know what's really going on with the Spring Texas real estate market, reach out to a local expert. I've been a Spring Texas Realtor for 20 years and I'm dialed into the market. If you have questions, reach out to me, Jill Wente, I'm happy to answer your questions.
Market stats are from the Houston Association of Realtors for Spring Texas properties classified as single family homes for the week of February 14 – February 20, 2023