New listings surged 21% last week. Price decreases dropped 42%. Homes under contract declined 6%. Are sellers getting ready for the Spring real estate market?  March, April, and May are traditionally the months that our listing inventory volume increases. Sellers are listing their homes in anticipation of moving during the school years.
How are buyers navigating higher interest rates and higher home prices?  ARM (adjustable rate mortgages) is a loan product that with rising interest rates is growing in popularity. Last week my first time homebuyer closed with a 15 year ARM at an interest rate of 5.125%. The lender is monitoring the interest rates to refinance the buyer's loan when the 30 year fixed rate dips below the ARM rate.
Average DOM (days on market) is 49.  Although 49 days seems long compared to pandemic years when homes went under contract in days and sometimes hours. Its not long compared to the pre-pandemic years of 2017 – 2019 when the median days on market was 74.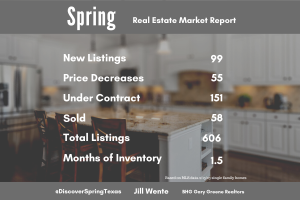 The average sales price to list price was 99%. Home sellers are willing to do some negotiation but its not a buyers market. 50% of the homes that sold last week closed at or above of their list price. That is NOT a buyer's market. The months of inventory remains at 1.5. Less than six months of inventory is considered a sellers market. The average sales price is $388,806 and the median sales price is $348,000.
The numbers for the national real estate market provide a high level overview of the health of the real estate market. When it's time to get serious about the Spring Texas real estate market, reach out to a local expert. I've been a Spring Texas Realtor for 20 years and I'm dialed into the market. If you have questions, reach out to me, Jill Wente, I'm happy to answer your questions.
Market stats are from the Houston Association of Realtors for Spring Texas properties classified as single family homes for the week of February 21 – February 27, 2023