The Spring selling season has kicked off with new listings skyrocketing 28% week over week. Even with the recent uptick in mortgage interest rates, demand has stayed steady. Months of inventory for the Spring Texas real estate market continues to remain tight at 1.5 months. Steady demand and tight inventory is keeping sale prices high.
The average days on market was 53 with the median days on market being 26. Don't let longer days on market fool you in to thinking that home you really love will be around for a while. 38% of the sold homes went under contract in less than 14 days.  If you love the home, move forward and submit an offer on it.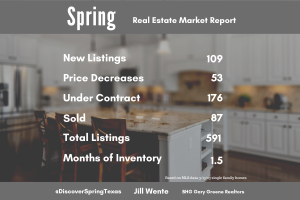 Average sales price was $345,878 down from the week's prior of $361.952. Reviewing average sales price on a week by week basis can be misleading as trends occur over longer periods of time. Are sellers willing to negotiate down from the list price? Yes, last week 59% of the sellers who sold their home accepted a sales price less than the list price. How much of a discount can you expect? About 2%. The median sales price to list price was 98%.
The numbers for the national real estate market provide a high level overview of the health of the real estate market. When it's time to get serious about the Spring Texas real estate market, reach out to a local expert. I've been a Spring Texas Realtor for 20 years and I'm dialed into the market. If you have questions, reach out to me, Jill Wente @ 281.804.8626
Market stats are from the Houston Association of Realtors for Spring Texas properties classified as single family homes for the week of March 7 – March 13, 2023