The Spring Texas real estate market saw very little change week over week. Inventory remains a paltry 1.4 months keeping sellers in control of the Spring housing market. With high mortgage interest rates homeowners are disincentivized to move. According to Goldman Sachs, 99% of borrowers have a mortgage rate lower than 6% (or the current market rate). Of those, 28% locked in rates at or below 3% and 72% locked in rates at or below 4%. Inventory levels will remain low while mortgage interest rates are high.
Low inventory is making multiple offers more common. You may only have one opportunity to present your best offer. The seller is under no obligation to call for highest and best offer. He can choose whichever offer is more attractive and negotiate with that buyer.
The median sales price to list price is 100%. The highest sales price to list price was 108% and the lowest sales price to list price was 88%. Median days on market was 15 and average days on market was 51.  Days on market is the length of time measured from the day the property was listed to the day the property went under contract.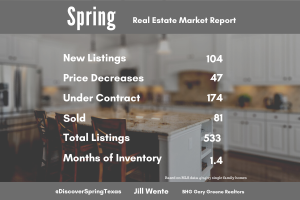 The average sales price is $384,132 which is the level its been hovering at for the last couple of weeks. Low inventory continues to plague the Spring Texas real estate market. We are starting to see some sellers rethink their housing and financial goals. They are selling their larger homes cashing out the equity and purchasing a less expensive property or moving into a rental property.
When you want to know what's going on with the local Spring Texas real estate market, reach out to a local expert. I've been a Spring Texas Realtor for 20 years and I'm dialed into the market. If you have questions, reach out to, Jill Wente, Realtor® @ 281.804.8626
Market stats are from the Houston Association of Realtors for Spring Texas properties classified as single family homes for the week of April 18 – April 24, 2023