Rising to 1.5 months, the Spring Texas real estate market experienced its first uptick in inventory in 7 weeks. New listings catapulted 15% and with no increase in demand total listings swelled to 548 homes. With 99% of borrowers locked  into mortgage interest rates less than 6%, 2023 will be the year of the missing move-up buyer. Higher interest rates and higher home prices will keep the move-up buyer on the sidelines.
Low inventory will keep housing prices from decreasing. More than six months is considered a buyers market and if 1.5 months of inventory we are at the opposite side of the spectrum of a buyers market. The good news for buyers is there are less of them competing. Last year just about every house had multiple offers and not just three offers but ten offers. Sellers are more willing to consider doing repairs or providing a repair allowance than they were last year.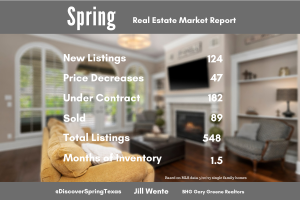 The majority of sellers are NOT desperate.  Low ball offers are NOT going to get accepted.  Last week we received an 14% less than the home's list price. The house has been on the market less than three weeks.  The seller flat out rejected the offer. Less demand does not translate into acceptance of low ball offers.  The average sales price to list price was 98.5% and the median was 100%.
Average days on market was 43 days with median days on market coming in at 23 days.  Don't let the average and median days on market fool you into thinking that you can wait until the weekend to see the house that matches all your needs and desires.  Twenty six of the homes that sold last week sold in less than a week.  If the house you've been waiting on comes on the market, don't delay to schedule an appointment on it today.
Last week the average sales price for a Spring Texas home was $428,205 and the median sales price was $319,800.  The average and median home prices saw increases of 9% and 6%, respectively. The increases aren't an accurate reflection of the market has the distribution changed with a larger percentage of higher priced homes were sold last week.
When you want to know what's going on with the Spring Texas real estate market, reach out to a local Spring Texas Realtor for invaluable market insight. If you have questions about the market, reach out to Jill Wente, Realtor® @ 281.804.8626
Market stats are from the Houston Association of Realtors for Spring Texas properties classified as single family homes for the week of May 16 – May 22, 2023