Months of inventory sits at 1.5 months for the third week in a row. Total listings on the Spring Texas real estate market remains unchanged. The housing market dodged a bullet last week with the federal government coming to an agreement on the debt ceiling. If an agreement hadn't been reached on the debt ceiling, mortgage interest rates would be in the 8% range.
As soon as inflation numbers start coming down, the mortgage interest rate will start coming down. Buyers are waiting on the sidelines for rates to drop. The smart buyers are buying when the house they want is available.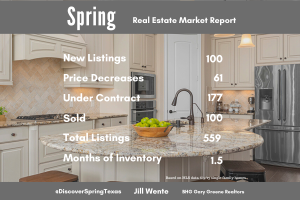 Median days and average days on market were 15 and 44, respectively.  Sales price to list price ratios are staying elevated. Average sales price and median sales price to list price ratios were 98% and 100% respectively. With months of inventory in the less than two months range, sales price to list price ratios will remain in the high 90s.
Last week the average sales price for a Spring Texas home was $407,277 and the median sales price was $315,000. Although the median sales price decreased 4% over last week, we are not experiencing weakness in the market. The median sales price has been in the $315,000 – $320,000 range for the last month.
When you want to know what's going on with the Spring Texas real estate market, reach out to a local Spring Texas Realtor for invaluable market insight. If you have questions about the market, reach out to Jill Wente, Realtor® @ 281.804.8626
Market stats are from the Houston Association of Realtors for Spring Texas properties classified as single family homes for the week of May 30 – June 5, 2023