Summer selling season is here with new listings hitting the Spring Texas real estate market remaining in the high 120s.  Last week's CPI coming in lower than expected brought a dip in interest rates and a surge in buyers wanting to lock their interest rates. This summer selling season is different than 2022 with houses staying on the market longer.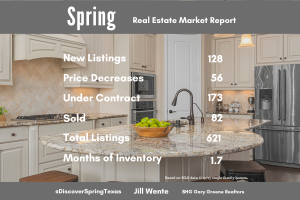 Buyers are more cautious than last year and are willing to terminate contracts during the option period. Last year just about all of the houses were selling even the houses with mechanical systems nearing the end of their useful lives.  Buyers were anxious to buy a house any house last year. This year, they have become more picky and we are experiencing more homes coming back on the market after the option period.
Multiple offers are occurring and buyers agent are having to drop everything and show homes as soon as they hit the market.
Sales price to list price ratios remain high and will continue to do so with low inventory levels.  Sales price to list price ratios were 99% and 100%, average and median respectively.
How long will it take to sell your Spring Texas home? The average days from listing to under contract was 46. The median days on market was 15. 50% of the homes went under contract in less than 15 days. Spring Texas home prices are not dropping.  The average sales price was $412,367 ($155.01 per sqft) and the median sales price was $339,000 ($150.15 per sqft).
When you want to know what's going on with the Spring Texas real estate market, reach out to a local Spring Texas Real Estate Agent for invaluable market insight. If you have questions about how your neighborhood is faring reach out to Jill Wente, Realtor® @ 281.804.8626 for the information to help you make sound financial housing decisions.
Market stats are from the Houston Association of Realtors for Spring Texas properties classified as single family homes for the week of June 13 – June 19, 2023