The Spring Texas real estate market climbed to the highest months of inventory in 2023. After starting out the year at 1.5 months, months of inventory has now risen to 2.6 months. Six months of inventory is considered a balanced market. Less than six months of inventory is considered a sellers market with more than six months of inventory being considered a buyers market. High interest rates and high home prices have caused buyers to press the pause button on their home purchases increasing the months of inventory.
Last week the FED decided to leave the over night borrowing rates alone. The markets rejoiced and mortgage interest rates declined to September 2023 levels. This week local lenders are quoting 30 year mortgage interest rates at 7.375% for conventional loans and 7% for FHA loans.  Buyer agents are quickly calling up all there buyers and telling them now's the time to get back to home shopping. Whether buyers are ready to act now or wait for further reductions is yet to be seen.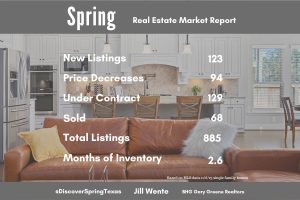 Buying a Spring Texas home now means there's less competition from other buyers.  If you wait until the interest rate drops further which nobody has a crystal ball telling you when that will happen, you will be competing against more buyers.  Higher demand translates into higher prices. Best financial advice is purchase now and refinance later.
Sellers the 4th quarter of the year is going to require you to have patience. In Spring Texas, we sell houses year round. Your house will SELL. It just won't be as a quick of sale as it would have been 18 months ago. An abundance of quality marketing is what it's going to take to get the job done. Set your self up for success by partnering with an experienced listing agent.
Here's the need to know numbers on the Spring Texas real estate market:
Average Sales Price to List Price –  97.7%   Median Sales Price to List Price – 98.7%
Average Days on Market –  54   Median Days on Market – 26
Average Sales Price –  $480,589  Median Sales Price – $305,000
Average Price Per Square Foot –  $160.68  Median Price Per Square Foot – $141.99
How's the real estate market in your Spring Texas neighborhood?  Reach out to Jill Wente, Spring Texas Realtor to discuss if now is the right time for you to make a move.
Market stats are from the Houston Association of Realtors for Spring Texas properties classified as single family homes for the week of October 31 – November 6, 2023