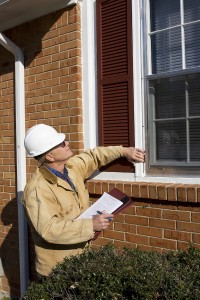 On February 1, 2009, new state mandated changes for home inspections went into effect.  Although the changes come at the detriment of trees as they will increase the length of the inspection reports, the additional reporting and classification change will result in more informed Spring Texas home buyers.
Classification change:  Previously home inspectors licensed by the State of Texas were mandated to identify a home's structural  systems as I = Inspected, NI = Not Inspected, NP = Not Present, and R = Not Functioning or in Need of Repair. But not anymore. The R classification has been eliminated and D = Deficiency is its replacement.
In my opinion changing the classification from R to D has been long over due. Because many a time an issue was marked as R in Need of Repair when a repair was not needed. What was needed was an upgrade to meet today's building codes rather than an actual repair.
The R classification caused buyers misunderstandings as they would believe they needed to have the entire home brought up to today's building codes.  And I do not know of any homeowner, myself included, who once a year hires a home inspector for the purposes of identifying the changes they should make in their home to meet today's building codes. It is just not realistic.
A D on a report card is NOT so GOOD,  but a D on an inspection report is VERY GOOD. Because the end result is a buyer with a great understanding of his Spring Texas home's property condition.
Additional reporting:  Previously home inspectors were only required to report some items if they were in Need of Repair. Now there are items the home inspectors are required to report irregardless if the item is a Deficiency including static water pressure, water heater capacity, the location of the water meter and main water supply valve, the energy source of the heating system, cooling system, and water heater, evidence of previous roof repairs, and evidence of water penetration.
More reporting may mean more home inspectors will be screaming in pain from writer's cram. But when the pain translates into more informed Spring Texas home buyers, the pain is worth the gain.
Learn more:
Read about the home inspector rules and forms