The recent announcement of the Federal Reserve's intentions to purchase Treasury securities over the next six months has pushed mortgage interest rates down to levels so low that the rates are making history.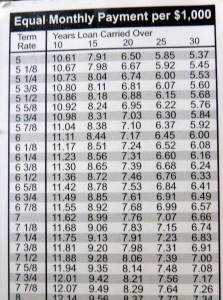 Rates so low that 30 year fixed home mortgages are below 5% and who would have guessed that?   Certainly not the manufacturer of Rick's (my working partner and fellow Prudential Gary Greene, Realtor) business cards. 
To the right is the once handy little monthly payment chart that Rick has printed on the back of his real estate business cards.  The chart's not as handy now since interest rates are below 5% and are not depicted.  
Lower interest rates are good when you are in the real estate market for a Spring Texas home but not good when you have to replace business cards due to outdated charts.  Oh well, I guess the charts will make good bookmarks.
Read also: