Right now is one of the best times ever to purchase a Spring Texas home because apartment rentals are projected to increase, our local Spring Texas housing market remains affordable, consumer confidence is increasing, mortgage interest rates are hovering around 5%, and if you are going to be a first time homebuyer there is an additional incentive of a $8,000 tax credit.  
Over the last couple of weeks, we have seen the absurdly and historically low 30 year fixed interest rates of 4.5% disappear as the interest rate has crept into the low 5%.  But don't count on even the 5% interest rates being available for long as even President Obama has issued a warning stating the "interest rates are unsustainable". 
You hear the mortgage interest rates talked about a lot these days but how much does the interest rate really impact your monthly payment.  Based upon the example below a rise in the interest rate from 5% to 6% increases your monthly payment by $94 a month which is not a budget buster.
There is more to analyze than just the increase in your monthly mortgage payment.  The big number is the impact the additional 1% interest has on the amount of interest you will pay over the term of the loan which is $33,873.  Sure, the number is not going to be as large if you are planning on selling your Spring Texas home before the end of its 30 year mortgage. 
Let's look at the impact a 1% higher mortgage interest rate has one more way.  The monthly payment on a loan amount of $150,000 at 6% is $899.  The monthly payment on a loan amount of $167,500 at 5% is the same $899.  A 1% lower interest rate provides you with $17,500 more purchasing power. 
Interest rates this low may never happen again and could truly be a once in a life time opportunity.  Lock in your interest rate as soon as you can.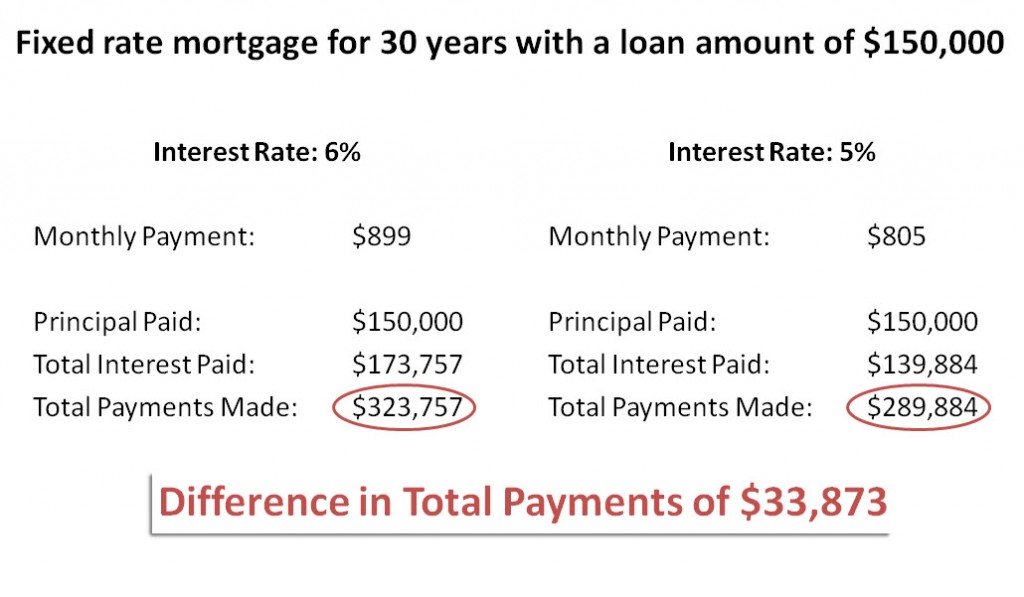 Reminder: A mortgage lender can not lock in an interest rate until you have provided them with the address of the Spring Texas home you are purchasing.