The Spring Texas real estate market for January 2010 looks a lot like January 2009.  Months of inventory (time it would take all single family homes in Spring Texas to sell) is 5.6 months.  Not much difference from last year's 5.4 months of inventory. Active listings (homes on the real estate market) are 1,056. Again not much difference than last year's number of 1,140 listings.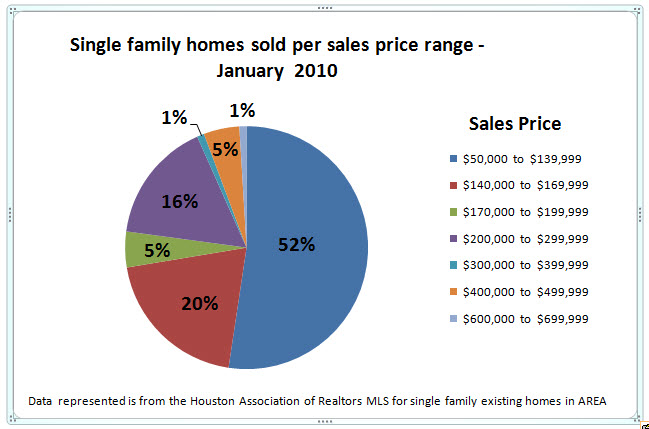 The noticeable difference between January 2009 and 2010 is in the average sales price.  For January 2010 the average sales price was $160,096 versus $138,464 from the previous year.  The January 2010 median sales price experienced a slight increase of 3.4% to $135,000. 
Thus the jump in the average sales price was not attributable to price appreciation but instead due to a larger percentage of higher priced homes being sold.  Buyers at the $400,000 and above sales price are still in hibernation with 72% of total home sales occurring at prices of $169,999 or less.
Over the last couple of months, first time home buyers have been doing a lot of searching but not a lot of buying. That is all about to change.  With the April 30th tax credit expiration date only 74 days away, homes for sale in Spring Texas in the $200,000 or less price range will be receiving a significant increase in showing activity.  Sellers get ready.  A first time home buyer will soon be sending you an offer.
The data represented is from the Real Estate Center at Texas A&M University and the Houston Association of Realtors MLS for single family existing homes in Area 13. Area 13 covers the geographic boundaries of East – I45 to West – Hwy 249 to South – Beltway 8 to North – Spring Cypress. A good portion of the houses in MLS area 13 have a Spring TX mailing address