What's going on with the Spring Texas Real Estate Market?  The real estate market continues to resemble 2009.  The sales for the month of February were 134 which is 11 sales fewer or 7.5% less than February 2009's number of 145.  Active listings total 1,087 which is 1.7% less listings than February 2009.  Again not much different.  Months of inventory is 5.7 months which is 5.5% more than in February 2009.  Again not much different.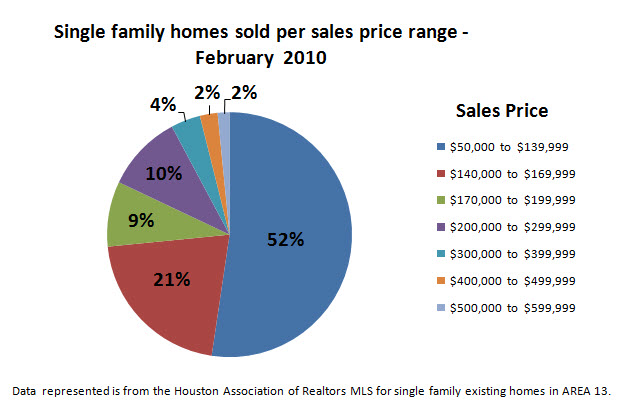 The under $200,000 price range continues to be the price range of preference.  In January, 77% of all sales occurred in this price range and in February the number increased to 82%. 
As the first-time home buyers tax credit draws closer to its upcoming expiration date of April 30 2010, the lower price ranges will continue to grab the largest share of the pie. 
For a closer view of the numbers, click on the graph.
While the first-time home buyers tax credit has motivated buyers to purchase now instead of later, the $6,500 move-up tax credit has not produced the same results.  Buyers are aware of the existence of the move-up tax credit but very few are taking advantage of it.  The reward of $6,500 is not enough in comparison to the uncertainty of the economy for this group of buyers.  
Sometimes the monthly numbers don't reveal everything that is happening in the Spring Texas real estate market.  We get all kinds of great numbers such as sales, pending sales, days on market, median sales price and months of inventory.  But what we don't get is quantity of showings. In February and in March, we have experienced an increase in the quantity of showings for homes in the $500,000+.  We have not seen a corresponding increase in the quantity of sales but usually sales are not too far behind showings.  The increase in showings give hope once again to these upper price range sellers that have seen very few lookers and even fewer buyers for many, many months.
Want more numbers? Check out past Spring Texas real estate market reports
The data represented is from the Real Estate Center at Texas A&M University and the Houston Association of Realtors MLS for single family existing homes in Area 13. Area 13 covers the geographic boundaries of East – I45 to West – Hwy 249 to South – Beltway 8 to North – Spring Cypress. A good portion of the houses in MLS area 13 have a Spring TX mailing address