What's going on with the Spring Texas Real Estate Market?  The real estate market for March is the first month of 2010 that does not look like its 2009 deja vu.  Sales of 176 for the month were down 13.6% compared to March 2009.  New listings were 440 for the month which is 16% more than March 2009. Months of inventory jumped to 6.3 months which is 12.5% more than in March 2009.
What do all these measurements of the Spring Texas real estate market mean?  In a nutshell … it is all about the first time home buyers tax credit.  Sellers who would have waited until the summer to put their house on the market put in on earlier in hopes of snagging a first time home buyer.  Months of inventory increased due to the increase in listings.  Sales are down because there are not as many first time home buyers in the market as everyone hoped for.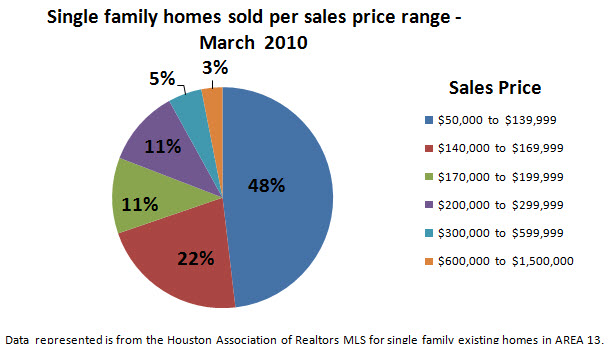 The first time home buyers still continue to be the drivers of  the market.  As 81% of the sales for the month occurred in the the under $200,000 price range.  
Buyers at the $600,000 and above price range are beginning to come back out into the market.  These buyers have seen a partial rebound in their portfolios and with low interest rates and beaten down home prices they recognize a good buying opportunity.
For a closer view of the numbers, click on the graph.
Want more numbers? Check out past Spring Texas real estate market reports
The data represented is from the Real Estate Center at Texas A&M University and the Houston Association of Realtors MLS for single family existing homes in Area 13. Area 13 covers the geographic boundaries of East – I45 to West – Hwy 249 to South – Beltway 8 to North – Spring Cypress. A good portion of the houses in MLS area 13 have a Spring TX mailing address