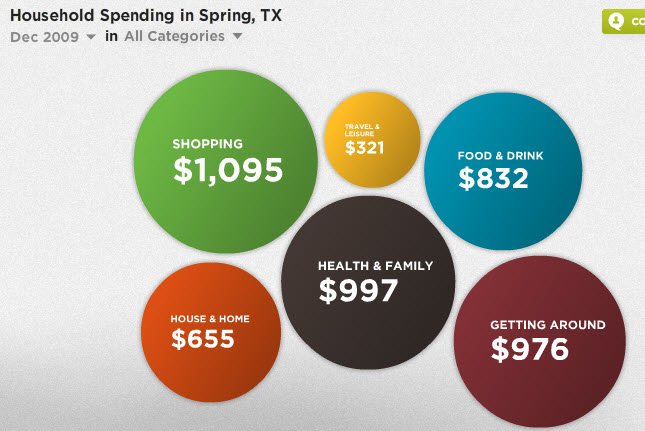 Money … Money …  Money ….  Where does it all go?  The majority of the time we don't know where our money has gone.  We just know it's gone.
With the help of Bundle.com, we can now gain some insight into our spending habits and the spending habits of our Spring Texas neighbors.
Bundle breaks down the spending of Spring Texas households into the categories of shopping, health & family, getting around, house & home, food & drink, and travel & leisure.  Bundle's data does not include mortgage and rent.
You can go deeper into the categories and look at sub-categories.  The food & drink category is broken down into groceries and dining out.  Spring Texas households spend a monthly average of $383 on dining out and  $449 on groceries. You can dig further and discover residents of Spring Texas spend their money dining out at Starbucks, McDonald's, Chili's, Chick-fil-a, Pappadeaux seafood restaurant, Cheesecake factory, Olive Garden, Subway, and P.F. Chang's.  This certainly explains why these restaurants are always busy.
According to Bundle, their numbers are compiled by data provided by Citi, the U.S. government, and third-party research.  Since I primarily use an American Express card this explains why my expenditures at Chuy's go uncounted.
Although not entirely accurate, it's interesting to poke around the data and compare your spending habits with those of your Spring Texas neighbors.
Read also: