What's going on with the Spring Texas Real Estate Market?  Fueled by the last minute rush from buyers wanting to take advantage of the tax credits before there expiration on April 30th, home sales for the month were 27% higher than April 2009.  While the prior year's month over month showed a significant increase, there was no corresponding increase over the prior year's YTD sales figure.
The YTD average sales price and median sales price are slightly higher but not due to price appreciation.  The increase is attributable to a shift in the distribution of home sales with a larger percentage of the sales occurring at the higher price ranges. Months of inventory which is the quantity of time it would take for all the homes currently on the Spring Texas real estate market to sell based upon prior sales activity is 6.o months. Six months of inventory is considered to be a balanced market with neither buyers nor sellers having the upper hand.
Homes in the over $400,000 price range are still suffering from a buyer's market with months of inventory in the 8 to 10 months range.  The home buyers tax credits spurred activity in the lower price ranges but had little to no impact on the upper price ranges.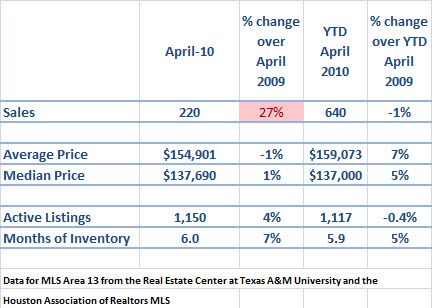 You can expect to see a significant decrease in pending home sales for May versus April.  As we have experienced a signficant decrease in showing activity since the end of April. It will be interesting to see what the YTD home sales figures are in September.  Until then, we won't be able to determine if the tax credits  fueled a true increase in home sales or merely pushed up the timing of home sales.
Want more numbers? Check out past Spring Texas real estate market reports
The data represented is from the Real Estate Center at Texas A&M University and the Houston Association of Realtors MLS for single family existing homes in Area 13. Area 13 covers the geographic boundaries of East – I45 to West – Hwy 249 to South – Beltway 8 to North – Spring Cypress. A good portion of the houses in MLS area 13 have a Spring Texas mailing address
Read also: