With the interest rates for 30-year home mortgages at 50 year lows, NOW may be not only a good time but a great time to refinance. What's in store for mortgage interest rates?  According to the Mortgage Bankers Association you should expect interest rates to steadily rise.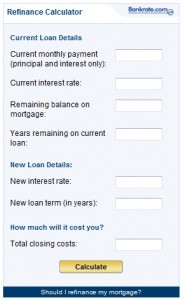 But does low interest rates and a predicted rise in interest rates automatically mean you should refinance your Spring Texas home's mortgage?  No, it does not.  The best way to decide if now is a good time for you to refinance your loan is by using a refinance calculator.
Bankrate.com  provides a great free refinance calculator that calculates your payback period in months. Your lender can provide you with the current mortgage interest rates but if you wanted a rough estimate you could plug in 4.5% for the interest rate on a conventional 30-year loan or 4.25% for a FHA loan. At least this is what the mortgage interest rates were last week.
After you have determined the payback period, you need to ask yourself how long you plan on staying in your current Spring Texas home.  If you plan on staying longer than the payback period, then call your lender because now is a good time for you to refinance your home.