Earlier this year, the FHA increased the upfront mortgage insurance premium from 1.75% of the loan value to 2.25%. Now the FHA has decided to reduce the upfront mortgage insurance premium from 2.25% to 1% and increase the annual premium from 0.55% to 0.9% on loan to value (LTV) ratios greater than 95%.
What does all this jockeying around of rate structures mean to Spring Texas home buyers?
Short answer … your monthly payment will increase. If you already have an FHA loan these changes will not impact you as your monthly payments will remain the same. Only FHA loans originated October 4th, 2010 or later will be impacted.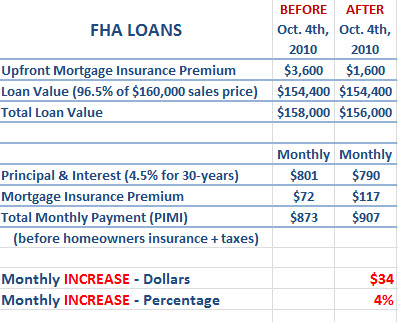 How much will the FHA changes increase your monthly payment?
For illustrative purposes, I have used a sales price of $160,000 which will get you a nice house in Spring Texas. The maximum allowable you can borrow for an FHA loan is 96.5% of the sales price. You can roll in the upfront mortgage insurance premium and with today's low interest rates it makes financial sense to do so.
On a monthly basis an increase of 34 dollars doesn't sound like a lot. But on an annual basis the increase is $408.  Now, we are starting to talk about real money.
If you are thinking about buying a Spring Texas home but haven't gotten serious about it yet, act now to avoid an increase in your monthly payment.