Almost every client I talk with who is relocating to Spring Texas asks me which neighborhoods should I stay away from or which are the most family friendly but due to Fair Housing Laws I can't answer those questions.  I can only point you to websites that you can use to develop your own opinions.
An excellent resource that I discovered recently is provided by the New York Times.  It overlays the 2010 census data onto Google Maps. The data is broken down by state, county, and census tract.  I particularly like the census tract data because it gives you a closer look than just data for Spring Texas.  You can view maps on home values, monthly rent, same sex couples, racial and ethnic distribution, income and education levels.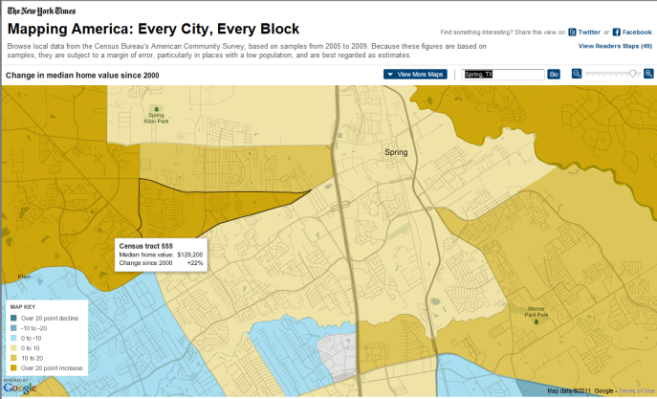 Here's the link to the map so you can dig deeper into the 2010 Census data yourself.
Over the last 10 years, we have experienced significant real estate development in several Census tracts in Spring Texas. In those instances where the value of the new construction homes were higher than the existing homes in the Census tract, the median home value experienced an artificially inflated increase.  The median home value is the value at which 50% of the homes sold for more and 50% sold for less. Thus take the increases or decreases in median home values with a grain of salt.