What's going on with the Spring Texas Real Estate Market? The buyers were out in force in January generating a 12% increase in home Sales and a 11% increase in Pending Sales. Both the average sales price and the median sales price experienced increases. Spurred by an increase in a sales and a decrease in listings, the months of inventory dropped below 6 months.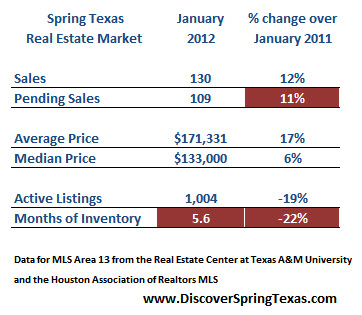 Months of Inventory  – six months of inventory is typically considered a balanced market and for the last two years the Spring Texas real estate market has been hovering above 6 months. The buyers have definitely been throwing their weight around and has forced more than one seller to take their house off the market and wait for better days.
With less than 6 months of inventory, those better days could now be here.  If you are thinking about putting your house on the market this Spring, don't wait.  Do it now when the months of inventory is lower.
Quantity of Sales – Both sales and pending sales experienced a double digit increase.  More than a few of these sales were fueled by the relocation of 200 Halliburton employees to the area.  Halliburton relocated their technology center from their Duncan OK location to their Beltway 8 and IAH airport location. The employee moves were scheduled for February.
Mortgage Interest Rates – 30-year rates for FHA loans are hovering between 3.75% and 4%.  If you are confident about your job prospects and you're thinking about up-sizing, now is the time. Interest rates will go back up. Lock in a 30-year rate now when the rates are low. The difference in your monthly payment on a $250,000 mortgage at 5% vs 4% is $461.
What's ahead for the Spring Texas real estate market?  Check out our real estate predictions for 2012.
Our Prudential Gary Greene Champions office started the year off running.  For the month of January, our office pended $28 million in real estate (increase of 55% over last January).
Real estate is local and not all subdivisions are faring the same. If you are interested in selling your Spring Texas home, give me a call at 281.804.8626 to discuss what's going on in your subdivision.
The data represented is from the Real Estate Center at Texas A&M University and the Houston Association of Realtors MLS for single family existing homes in Area 13. Area 13 covers a large  geographic area stretching from I45 to Hwy 249 to Beltway 8 to Spring Cypress.