What's going on in the Spring Texas Real Estate Market?  Single family home sales are on a roll recording yet another monthly increase. Average and median home prices are pushing upward. Active listings remain below 1,000. Increase in sales and a  decrease in active listings push months of inventory lower. Days on Market dips to 73.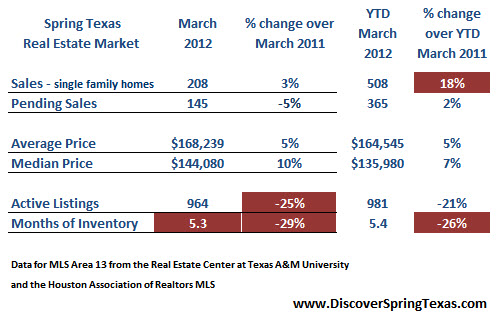 Months of Inventory – Months of inventory 29% lower month over year. The decrease in active listings coupled with an increase in home sales as pushed the months of  inventory down to 5.3 months. If you are thinking about selling your Spring Texas house, now is GOOD time.  Buyers are out and good listings are in demand.
Home prices – Increase in demand and decrease in supply of active listings is pushing home prices skyward.
Days on Market (DOM) – Measured from the date a house is put on the market until the date it goes under contract. DOM experienced a 29% decrease for month over year.  DOM helps to answer the question of "How long will it take before my house sells?" and for the month of March the answer is 73 days.  Although the DOM for every Spring Texas subdivision is different, the average does give you some idea as to how long you will be inconvenienced with showings.
Mortgage Interest Rates – Rates on 30-year loan are bouncing around in the high 3% to low 4% range. FHA loans became a little more expensive on April 9th as the up-front mortgage insurance premium increased from 1% to 1.75% and the monthly mortgage insurance premium increased by .1%.
Leases continue to be in demand. Rental of single family homes have experienced a 14% YTD increase over last year. Days on Market for single family rentals is 53 days. If you see a home you want to rent, you need to move quickly because it will not be around for long.
What's ahead for the Spring Texas real estate  market?   Check out our real estate predictions for 2012.
The data represented is from the Real Estate Center at Texas A&M University and the Houston Association of Realtors MLS for single family existing homes in Area 13. Area 13 covers a large geographic area stretching from I45 to Hwy 249 to Beltway 8 to Spring Cypress.