Buying a Spring Texas house is a series of steps and upon the completion of each and every step the anticipation and excitement of move-in day builds. The most stressful and the least fun step in buying a Spring Texas home has to be getting a mortgage. The mortgage process starts off easy. The loan officer asks you a few questions, checks your credit score, and then you receive the loan pre-approval. You think getting the loan pre-approval was so painless that getting a mortgage should be easy.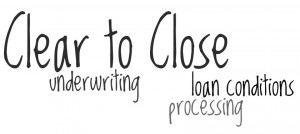 But fun and easy do not describe the process of getting a mortgage as the next step is the documentation step. Your lender's initial documentation request includes a copy of your driver's license, your bank statements, your last two years tax returns, your most recent pay stubs, and explanation of any recent credit inquiries.
You provide the initial documents to the loan processor who in turn submits your file to underwriting along with additional documentation on the property including survey, appraisal, title insurance, and homeowners insurance.
Your file then comes out of underwriting with loan conditions. The loan conditions are requests for additional documentation and additional documentation and additional documentation and additional documentation. It's at this point that you are about ready to lose it. As you start to seriously doubt if buying a Spring Texas house is really worth all the hassle.
But moaning and groaning you trudge forward in search of what seems like one piece of meaningless piece of paper after the other. All in effort to satisfy the lenders request for documentation and leaving you wondering when and if the request for documentation will ever end.
The end of the request for documentation arrives when your loan officer says the loan is "CLEAR to CLOSE".  Your lender has officially approved your loan and the most stressful and least fun step in buying a Spring Texas house has just been completed. YEA!!
There are some additional steps that need to be completed before move-in day but they are all easy in comparison to the loan process.