Discovery at Spring Trails once touted as the first ecomagination community in Northwest Houston never really got off the ground.  The plan was to develop an 1,100 acre community in a prime location off Riley Fuzzel (path of the proposed Grand Parkway) include resort style amenities and add a green element with a mandatory requirement for solar panels on all homes.
In 2008, the first homes were built and the community was gaining significant buzz over its green element.  But then  economy took a nose dive. The amenities were never built. The mandatory solar panel requirement was changed to voluntary and in 2011 the developer was forced into bankruptcy.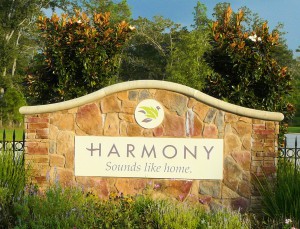 Fast forward to 2012 – the economy is turning around and with the anticipation of the opening of the EXXON MOBIL campus in 2014, new housing starts in Spring and the Woodlands are booming. The timing is right for a ressurection of the Discovery at Spring Trails development.
Johnson Development Corporation, the developer of Fall Creek, Woodforest, and other Houston area communities, acquires the Discovery at Spring Trails development and rebrands it Harmony.  Along with the acquisition, Johnson Development announced plans to invest $5.8 million in a resort style pool and splashpad to open in the summer of 2013.
New builders of Ashton Woods, Darling Homes, Perry, and Village Builders make a commitment to join the existing builders of Westin, Highland Homes, First Texas, and CastleRock in Harmony.
Discovery at Spring Trails was a fatality of the wrong product at the wrong time. Due to its timing, location, job growth (EXXON MOBIL impact) and its strong developer, the Harmony development is going to take off.
Check out – Harmony Spring TX Homes for Sale