Almost 1.2 million Texans in addition to myself went online and voted for our new state license plate design. I am proud to say the design I voted for "Lone Star Texas" was the clear winner capturing almost almost half the votes.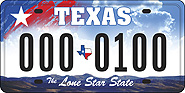 I suppose the Texas Department of Transportation wants to make sure no vote tampering occurred because they have yet to declare the results official. It was really all for fun anyway. Since the Texas Transportation Commission will be making the final decision on February 28th.
The new plates are needed because its projected that by the end of 2008 we will have exhausted our current six character combination plates. Its no wonder we are running out since the state of Texas's population increases by roughly 1,000 people every day. In addition to a new plate design the number and letter combination will be increased from six to seven to accommodate these new Texans.
If you missed your chance to vote you are going to have wait longer than another four years. Based upon population projections, The Texas Department of Transportation anticipates the seven character combination pattern to last 35 years.
Don't look for the new plates to be on my car anytime soon. Even though my favorite design "unofficially" won, I would have to pay for them since my plates are not seven years old. And I can find other things to buy for my car instead of plates like ….. GAS.