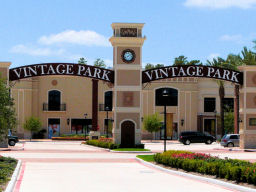 Vintage Park, an upscale town center shopping center, announces its first Summer Events schedule. On the following Saturdays, August 2 and 16, September 13 and 20 from 4 – 6 pm enjoy live music plus additional entertainment for the kids at Vintage Park.
The recently opened Vintage Park is located at the HWY 249 and Louetta intersection in Northwest Houston. Careful attention to detail has been paid in the construction of the Mediterranean architecture structure including hand-laid pavers, stone columns, clay tile roofs, and hand painted murals.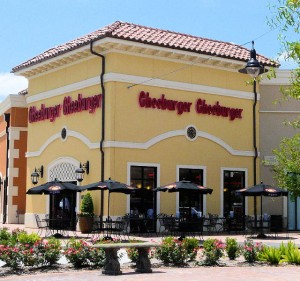 Vintage Park's first tenant of Potbelly Sandwich Works opened its doors in December of 2007. Since then construction has been completed on additional buildings with more tenants moving in including Imagination Toys and Shoes, Eminence Fine Furniture, Starbucks, Alan Murphy Salons. And its newest tenant Cheeburger Cheeburger.
A good old-fashioned Cheeburger and malt in a replicated 50s and 60s diner is waiting to be enjoyed by you at Cheeburger Cheeburger. This is Cheeburger Cheeburger's first location in the great State of Texas and we are proud for it to be located in Houston.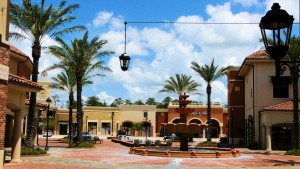 The center of activity at Vintage Park is certain to occur in its Piazza. Designed to be reminiscent of an Italian shopping promenade with dramatic landscaping and fountains to be enjoyed al fresco by diners. None of the restaurants overlooking the Piazza are open as of yet. Mia Bella an Italian restaurant has secured space at one corner of the Piazza. Shogun a Japanese restaurant will occupy space in the opposite corner of the Piazza.
I can't think of too many better things to do on a Friday night than having an enjoyable dinner in a wonderful atmosphere with my husband. So if you are one of the workers working on this project, please hurry up and finish. Because I am hungry and am ready to eat.
If you want a quick drive home after a night of shopping and dining at Vintage Park consider the neighborhoods of Champion Forest, Champion Woods, Memorial Northwest, and Gleannloch Farms. They are all within a short 10 minute drive. Begin your search for Spring Texas homes and discover the great homes available in these and other neighborhoods. If you have questions or are ready to begin viewing homes, give us a call at 281.804.8626.