Spring Texas is a U.S. census designated place located approximately 25 miles north of downtown Houston. The Spring Texas area which also includes Klein Texas has a rich German history. There's no actual city of Spring Texas. The Spring area is located in unincorporated areas of Harris County and Montgomery County with the majority of it being in Harris County. The Spring Texas area is home to the three school districts of Conroe, Klein, and Spring.
Spring Texas is known for its historical shopping district in Old Town Spring, some of the best BBQ in Texas, beautiful parks, home to the most decorated U.S. women's gymnast EVER, its convenient location, and as headquarters to ExxonMobil, one of the world's largest publicly traded international oil and gas companies, Hewlett Packard Enterprise (HPE), a global edge to cloud company, and Southwestern Energy, a natural gas exploration and production company.
Old Town Spring is the most popular tourist attraction in Spring. Spend a leisurely afternoon pursuing the over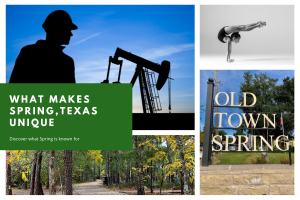 150 shops in the historic setting. You are sure to find a unique item that you just can't live without. It's in Old Town Spring where you can enjoy some of the best finger lickin' lip smacking BBQ in the state of Texas at Corkscrew BBQ. Arrive early to get the best spot in line as they are open until they run out. After all the shopping, take a break at a beer garden and enjoy a local brew from Excalibur Brewery. Learn how Spring got its name and about the history of Old Town Spring with a stop a the Spring Historical Museum. Step inside a Speakeasy and listen to some of the best live music in the area while relaxing with a cocktail. If your heart is strong, take the evening guided walking tour of Old Town Spring and learn about the ghosts and the paranormal activity.
Spring Texas is known for its many beautiful parks. The nationally recognized Mercer botanical gardens boasts the largest collection of native and cultivated plants in the region. The park where there's always something blooming is a favorite for photographers to use as a backdrop for engagement, prom, and graduation photos.  Admission is free and the park is open year round. Spring is home to the longest connected urban forest in the nation. The Spring Creek Greenway is a 12 foot wide paved hike and bike trail system connecting parks in Harris County. The 19 mile greenway is a popular spot for bike riding. With 26 soccer fields, the 180-acre Meyer Park is the place for soccer. The park also has paved walking trails and a lake that is stocked annually with fish.
Simone Biles the G.O.A.T. of U.S. women's gymnastics calls Spring Texas home. Simone has 32 World/Olympic medals and ties Shannon Miller for most Olympic medals won by an American gymnast. She attended Benfer elementary in Klein ISD. Simone trained at her family-owned gym, The World Champions Centre in Spring Texas. In 2022,  Simone become the youngest person to receive the Presidential Medal of Freedom.
Spring Texas is known for its convenient location. It's a short drive to downtown Houston, the fourth largest city in the U.S. Attend a pro sports game and cheer on the NBA Houston Rockets, the World Series Champions Houston Astros, and the NFL Houston Texans (we are still hopeful that one day soon they will play to their full potential). Enjoy a night out at one of the many theaters. Houston trails only New York for the most theater seats in the U.S. It's a quick 30 minute drive to the IAH airport, the 12th busiest airport in North America where more than 40 million passengers traveled through in 2022.
Spring is becoming a hub for science and technology. Multinational oil and gas corporation, ExxonMobil's corporate headquarters and its Upstream, Downstream, Chemicals and XTO Energy companies are housed on its 385 acre campus in Spring Texas. Hewlett Packard Enterprises, a Fortune 500 Company and an edge to cloud company also has its headquarters in Spring. Southwestern Energy is another oil and gas company headquartered in Spring.
Spring Texas is known for its food. Whatever you are in the mood for and there's a place in Spring Texas serving it. Houston is the most ethnic diverse city in the US beating out New York and with that diversity comes a smorgasbord of food options. You will definitely find some of the best BBQ in the state of Texas. But that's not the only food you will find in Spring Texas. Tex-Mex, Cajun, Mexican, Italian, Japanese, Chinese, Vietnamese, and Indian restaurants are all vying for your dining out dollar. And yes, Spring Texas has food truck parks too.
Read also: