We are proud of the many actors, musicians, Olympic medalists, and professional athletes that have called Spring Texas and its neighboring community of Klein Texas "Home".
Olympic Medalists from Spring Texas:
Simone Biles, the most decorated U.S. women's gymnast EVER with 32 World/Olympic medals. She has seven Olympic medals, tying the record for most Olympic medals won by an American gymnast. Simone attended Benfer Elementary school in Klein ISD. She trained at her family-owned gym, the World Champions Centre in Spring Texas. Simone is the GOAT (Greatest Of All Time) in women's gymnastics. In July 2022, Biles became the youngest person to ever receive the Presidential Medal of Freedom. Simone is engaged to Houston Texans safety, Jonathan Owens.
Laura Wilkinson (Olympic Medalist): was raised in Spring Texas, graduated from Klein High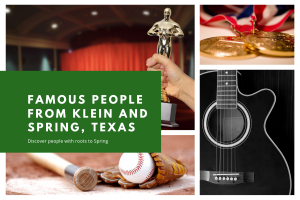 School, and trained in the Woodlands TX. Laura is a 3 time Olympian, an Olympic gold medalist and the first woman to win the three major diving world titles. After nine years of retirement, Laura returned to competition and placed 2nd at the U.S. Nationals in 2017.
Chad Hedrick (Olympic Medalist): was born in Spring Texas.  Chad has won 5 speed skatingd medals during his career. He won three medals at the 2006 Winter Olympics and two medals at the 2010 Winter Olympics
Actors / Actresses from Spring Texas:
Jim Parsons (actor): raised in Spring Texas and graduated from Klein Oak High School in 1991. Jim has received four Primetime Emmy Awards for Outstanding Lead Actor in a Comedy Series and the Golden Globe Award for Best Actor in a Television Series Musical of Comedy. Jim is well known for his role of Sheldon on "Big Bang Theory".  Jim's other works include a recurring role in the television series "Judging Amy". Jim's acting extends to numerous films and Broadway plays.
Matt Bomer (actor):  was born in Spring Texas and graduated from Klein High School. Matt is best known for his starring role as a criminal fighting crime in "White Collar" a show on the USA Network. In 2009, People Magazine named him "Sexiest Rising Star".  Matt has won a Golden Globe Award, a Critics' Choice Television Award, People's Choice Award and was nominated for an Emmy Award.
Sherry Stringfield (actress): was born in Colorado Springs but mainly raised in Spring Texas.  She also graduated from Klein High School. You may remember her from her role as Dr. Susan Lewis on NBC's television series "ER."
Lynn Collins (actress): attended Klein High School and was a classmate with Matt Bomer. Lynn is best known for her recurring role of Leah Shaw in the television series "The Walking Dead".  She was also in the popular X-Men Origins: Wolverine movie.
Eddie Steeples (actor): was born and raised in Spring Texas and graduated from Klein Oak High School.  In 2004, he made People magazine's list of "World's Sexiest Men".  Some of Eddie's most recognized roles were his role as the "Rubber Band Man" in the Office Max commercial in which he dances while pushing an office supply cart and his role of Darnell Turner in the NBC Sitcom "My Name is Earl".
Professional Athletes from Spring Texas:
Josh Beckett (MLB pitcher): was born and raised in Spring Texas. He graduated from Spring High School. Josh has played for the Florida Marlins, the Boston Red Sox, and the Los Angeles Dodgers. In 2008, Josh recorded his 1,000th career strikeout. Josh is a three-time MLB All-Star, recipient of 2003 World Series MVP award, and the 2007 American League Championship MVP award.
Musicians from Klein Texas / Spring Texas:
Lyle Lovett (musician): probably the most recognized name with Spring Texas roots. Lyle is the great, great grandson of Adam Klein, the founder of Klein, Texas. Lyle graduated from Klein High School. Lyle Lovett is not only a singer but also a songwriter, actor, and record producer. He has several hit records with "Cowboy Man" being his most popular. Lyle has been in several episodes of the popular crime drama "Blue Bloods". Lyle and his family still own many acres of land in Spring Texas including a stretch along Spring Cypress.
Do you know of any other famous people with roots to the Spring Texas area?