All summer long we have been out cruising Spring Texas neighborhoods, walking their trails, talking with their residents, and taking photos, photos, and more photos in order to be able to give you a "feel" for what it is like to call a particular neighborhood or subdivision "Home".
Today, we are introducing our new series on "Spring Texas Neighborhoods" in which each week we will provide a snapshot of a new neighborhood. By the end of the weekly series, we will have doubled our quantity of profiled Neighborhoods. Now don't worry if you miss a week because the full profile (not just the snapshot) of the Neighborhood will be located in the Neighborhoods section of our blogsite for you to view at anytime.
Introducing Stone Forest, not your ordinary neighborhood. With the majority of the architectural styles in Spring Texas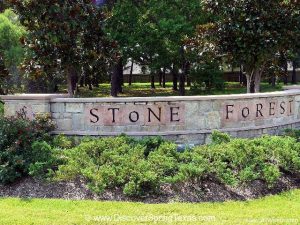 being Tudor, Traditional, or Mediterranean, its refreshing to have a subdivision whose homes stand out from the rest. And Stone Forest is one such subdivision.
Often referred to as "Cottage or Craftsman" style, the homes which were built between 2001 and 2008 possess that extra flair or character that makes you want to stop and take a look. Their spacious front porches say "Welcome", sit down, relax, and stay awhile. The subdivision carries on this warm and inviting feeling through its meandering sidewalks and numerous culdesacs.
Read the complete profile of the Stone Forest subdivision, view additional photos and its homes for sale.