Thanksgiving is one of my favorite days of the year. Because we all have so much to be thankful for and its good to have a day set aside to count our blessings. Especially now, when somedays we are made to believe that the sky is falling. One of the things I am thankful for is my supportive husband (Rick) and my family. Thank you all. You are the best cheerleaders a person could ever hope for and I love you.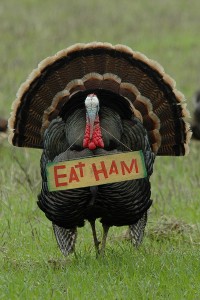 One of the other reasons I enjoy Thanksgiving is because of the wonderful traditions that we created over the years. Such as watching the Macy's Thanksgiving Day Parade. I enjoyed watching the parade as a kid and I guess I have not grown up because I still enjoy it today. There is just something about watching gigantic balloons maneuver around skyscrapers.
Thanksgiving is also the time for our annual white vs corn bread dressing debate. I grew up in the Midwest and until I met my Southern born husband, I never knew anything BUT white bread dressing existed. Sometimes our debate on which is the BEST dressing becomes more heated than political debates. I like my dressing nice and goopy and Rick likes his dressing dry and sticking to the bottom of the cast iron skillet it was cooked in. I don't believe I will ever be able to convince him of the superiority of the white bread dressing but I continue to try. And in the meantime, we prepare white and corn bread dressing in the same pan with a piece of celery being the dividing line between the two. Similar to how the Mason Dixon line divided North and South.
If you are traveling by car this Thanksgiving, enjoy the lower gas prices. And don't forget to cherish your time spent with family and friends.
Happy Thanksgiving from Jill and Rick – Spring Texas Realtors