After a much needed Thanksgiving break, we are back with another entry in our new series "Spring Texas Neighborhoods". In which, each week we provide a snapshot of a new neighborhood. Hopefully you have been enjoying the series to this point and are getting better acquainted with the wonderful neighborhoods we have in Spring Texas.
By the end of the weekly series, we will have doubled our quantity of profiled Neighborhoods. Don't worry if you miss a week because the full profile (not just the snapshot) with additional photos of the Neighborhood will be located in the Spring Texas Neighborhoods section of our blogsite for you to view at anytime.
This week, we are profiling WindRose, a Spring Texas master planned community.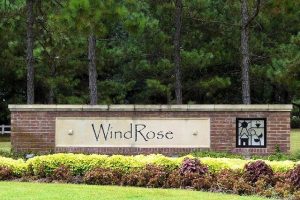 The now bustling retail and dining intersection of FM 2920 and Kuykendahl used to be considered a sleepy area. That is until the 2,200 homes in WindRose were built and occupied between the years 1998 and 2008. The intersection list of retailers include Krogers, Wal-Mart, Lowes, Chilis, Wendys, McDonalds, Sho-Gun Japanese Restaurant, Sizzler Steakhouse, and Buffalo Wild Wings. Making living at WindRose a lifestyle of convenience.
The children attend schools in the Klein School District with the elementary school being located in the subdivision and the intermediate school across the street from the subdivision further adding to the lifestyle of convenience.
WindRose has more to offer than just convenience. The master planned community has an extensive and impressive array of amenities including a public 18-hole, par 3 championship golf course that winds through the subdivision, a 20-acre natural lake surrounded by mature trees, paved walking trails, benches, and a fishing pier, 2 swimming pools, lighted tennis courts, volleyball court, soccer field, playgrounds, gazebo, clubhouse and a meeting room.
The extensive array of amenities will have you wondering if you really need to go on vacation anyplace but your own neighborhood of WindRose.
View the complete profile of the WindRose subdivision, additional photos and its homes for sale.